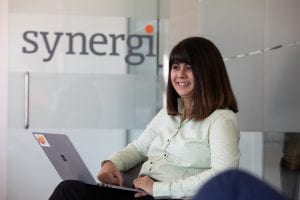 More businesses than ever are discovering the benefits of cloud solutions such as Microsoft Office 365, and with it, the options for replacing their server-based accounting software with a cloud accounting solution. Microsoft's Business Central is the obvious solution with the business flexibility and agility needed for our changing modern workplace.
As much of the country acclimatises to remote working, we are seeing how truly vital cloud computing is in the new modern workplace.   There has never been a better, or more opportune, time to embrace modern technologies.  However, much of the focus on remote working seems to lie with collaboration and communication tools. So, what about other aspects of your business that have been impacted by the move to remote working, such as accounting? Many legacy accounting solutions, for example, Sage or Pegasus, rely on servers to operate. This is where modern, cloud-based accounting truly shines, as users can access their end-to-end business accounting solutions from anywhere.
I'm offering a 30-minute personalised web consultation on Microsoft's Business Central and how it could change the way your organisation operates.  I'll tailor your consultation to your business needs, whether you're a Sage or Pegasus user struggling with access on a legacy system, or a Xero or Quick Books user who's seen the benefits of cloud accounting, but your business has outgrown what it can offer. It'll be an interactive session via Microsoft Teams, where I can show how easy it is to start your digital journey towards a true cloud accounting solution that could provide a more accessible, scalable, flexible, and integrated accounting experience.
I've spent over 20 years working with both Accountancy Practices and Finance Directors providing advice on upgrading Accounting and ERP systems. Previously, I used to be a Sage consultant and have also worked with businesses that have migrated from software such as Pegasus, Access, Xero, and Quickbooks to name a few. Last year I took the easy decision to start my own, digital journey and join Synergi.  I made the transition from traditional accounting systems to become an advocate of Microsoft Business Central.  For me, Business Central is a feature-rich, end-to-end business platform, helping businesses streamline their processes, make smarter decisions, and even accelerate their growth.   I've attached an infographic that gives a great overview of Business Central and its key features and benefits.  You can download it for FREE  here.
I believe we're in the middle of a fundamental "refresh" of the way businesses work and operate, and a cloud accounting solution such as Business Central is unique in its unmatchable integration to other Microsoft technologies, such as Office 365, Power BI and Dynamics 365 CRM, creating a truly modern solution for the way the world now is.
To book a personalised 30minute web consultation with me, just click on this link. 
Wanting to know more about Dynamics 365 first? Find out more here.
Microsoft Business Development Manager