We are delighted, and honoured, to announce we have been named as the Business Transformation winner of the 2020 Nintex Partner Awards, EMEA category.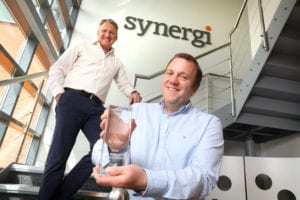 This follows on from Nintex announcing us as a finalist in the Nintex Solution Innovation awards too.  The Business Transformation category of the 2020 Nintex Partner Awards  recognises Nintex Partners with top customer entries in the 2020 Nintex Solution Innovation Awards program.
Synergi has been recognised for its proven ability to accelerate digital transformation and results for organisations across industries by leveraging the easy, powerful, and complete capabilities of the Nintex Process Platform.
Our award entry showcased two outstanding examples of clients using the Nintex platform to transform their businesses:  Yorkshire Water and Arriva.
Yorkshire Water ensures that 5.2 million people living in the north of England have clean safe drinking water on tap and that their wastewater is taken away.  Synergi designed and developed a Nintex solution that brings significant cost savings to Yorkshire Water, optimising the way they capture data and evidence, then liaise with the Environment Agency on any escaped water over the next 1-2 years.  The "Escapes App" streamlines and digitises the process from initial alert through investigation and data capture phases, to reporting and collaboration with the Environment Agency and regulatory bodies.  It includes a mobile-enabled solution for front-line workers too.
Arriva operates bus, coach, train, tram, and waterbus services in 14 countries across Europe, delivering over 2 billion passenger journeys annually. Synergi used the Nintex platform to help Arriva to build a full end-to-end CCTV handling solution for Arriva, which could use a remote service to log an incident, automatically request footage for download to secure servers and, most importantly, enable it to be shared in a timely way with critical third-parties such as solicitors, the relevant Police authorities or the Crown Prosecution Service.  The solution is powered by Nintex Workflow Cloud and the entire process including requests, actions, notifications, and critical system integrations are all orchestrated at the appropriate time, to streamline this digitised process.
"This year we were honoured to receive such a high calibre of nominations from Nintex partners in the 2020 Solution Innovation Awards program which highlights customer success with the Nintex Process Platform," said Nintex Chief Executive Officer Eric Johnson.
"Thanks to channel partners, like Synergi, more people are benefiting from valuable automation like digital forms, workflow, RPA, and eSignatures to improve business processes."
Justin Short, Chief Operating Officer at Synergi, described what the win means to Synergi:
"This is the 5th year running that we've won the Nintex Partner Awards, and we are humbled by the recognition from the Nintex team in 2020.  This is an incredible endorsement of our teams' skills and specialisation in the Nintex platform."
"To be recognised for delivering Nintex solutions to such high profile organisations, highlights both on a practical level and a strategic level how companies who are looking to achieve process excellence can benefit from combining the power of the Nintex platform with Synergi's expertise in this area."
Organisations around the world are digitally transforming the way people work with the process management and automation capabilities of the Nintex Process Platform, including: Nintex Promapp® for process mapping; robotic process automation (RPA) with Nintex RPA; workflow automation, digital forms, and mobile apps with Nintex Workflow, Nintex Forms, and Nintex Mobile Apps; document automation with Nintex Drawloop DocGen®; and e-Signatures with Nintex Sign™ powered by Adobe Sign.
To learn more about the Nintex Partner Awards and to see the complete list of recognised organisations, visit here.
Click the image below to watch the winners' video.