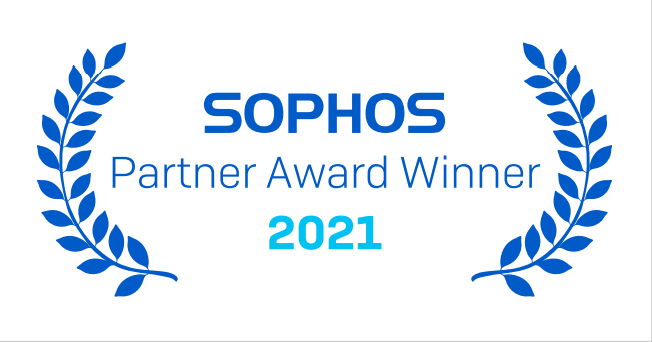 Synergi is pleased to announce that it has been named Sophos' 2021 New Partner of the Year in UKI. This award recognises Synergi for its outstanding performance and commitment to securing organisations with Sophos' next-generation cybersecurity solutions and services.
"The shift to remote working has expanded organisations' attack surfaces, and cybercriminals are stopping at nothing to penetrate these increasingly virtual networks. Armed with Sophos' industry-best cybersecurity solutions and services, Synergi is securing organisations against these advanced threats," said Kendra Krause, Sophos senior vice president of global channels and sales operations. "Sophos is proud to support and recognize this year's winners that are leading the industry in delivering business-critical cybersecurity solutions, and we look forward to their continued success."

"In a situation as unique as the one we have been experiencing for over a year now, we are particularly pleased to award Synergi with Sophos New Partner of the Year UKI", said Martyn Brownlie, channel sales director at Sophos. "It is always a great pleasure to be able to reward our partners as they play a crucial role in our success. To achieve the level of accomplishment Synergi have over the past year with Sophos is a fantastic achievement and we look forward to many more years of working together."
Founded in 2013, and now operating as a cloud solutions and managed services provider, Synergi was created to meet the fast-growing demands for cloud-based technologies in the North. Recognising the need for SMEs in the region to harness powerful enterprise-level solutions to empower innovation, growth, and agility, Synergi was launched to provide a next generation "born in the cloud" technology partner. Synergi's Managed Services team was launched last year in response to demand from existing and new customers who required a partner who could deliver service excellence across on-premises, hybrid and cloud technologies. Synergi is thrilled to have seen this new service benefit and protect our customers and is very proud to have this work and its benefits recognised by Sophos.
Synergi's Chief Technology Officer, Paul Burns, said "This award is recognition for the whole Synergi team and highlights both our training commitments around cyber security and the efforts we are taking to solve complex security challenges in a way that is easy to understand."

About Sophos
As a worldwide leader in next-generation cybersecurity, Sophos protects more than 400,000 organisations of all sizes in more than 150 countries from today's most advanced cyber threats. Powered by SophosLabs – a global threat intelligence and data science team – Sophos' cloud-native and AI-powered solutions secure endpoints (laptops, servers and mobile devices) and networks against evolving cyberattack techniques, including ransomware, malware, exploits, data exfiltration, active-adversary breaches, phishing, and more. Sophos Central, a cloud-native management platform, integrates Sophos' entire portfolio of next-generation products, including the Intercept X endpoint solution and the XG next-generation firewall, into a single "synchronized security" system accessible through a set of APIs. Sophos has been driving a transition to next generation cybersecurity, leveraging advanced capabilities in cloud, machine learning, APIs, automation, managed threat response, and more, to deliver enterprise-grade protection to any size organization. Sophos sells its products and services exclusively through a global channel of more than 53,000 partners and managed service providers (MSPs). Sophos also makes its innovative commercial technologies available to consumers via Sophos Home. The company is headquartered in Oxford, U.K. More information is available here or at www.sophos.com.