Traditionally Robotic Process Automation (RPA) has been understood as a complex affair with the need for complicated toolsets and significant development requirements, however, recently we have seen a move towards a modern generation of RPA that turns these expectations on their head. Modern RPA embraces a more widely accessible usability with graphical low-code/no-code tools that empower users to automate and reduce the reliance on expensive contract resource that was so prevalent in the implementation of traditional RPA solutions. We could wax lyrical about the capabilities and potential of modern RPA, but it feels important to first acknowledge the ever-present questions attached to these solutions – What does RPA do? And Who should care?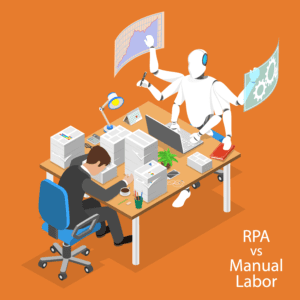 What is RPA?
Let's start with the clarification that RPA is not workflow automation or artificial intelligence although the three share overlapping capabilities. Workflow automation is typically for automation that is digitally connected, automation that turns logic grounded in APIs and database connections. Alternatively, RPA is the automation of human and digital interfaces. Simply put, if you can perform the action with a keyboard and a mouse, then RPA can automate that action for you. This means that there should be no need to alter your existing systems, applications or processes in order to automate using RPA. RPA operates using bots, a controlled and configured software to which you assign tasks. Bots can learn, adjust and scale as necessary, working in a non-invasive fashion, they can also be cloned. They can work to 100% capacity non-stop and reduce the risk of human error.
This is particularly beneficial for highly repetitive data input tasks such as moving data between systems or screens. This task for a human worker is laborious and time wasting but an RPA solution could utilise techniques for capture, targeting specific fields on a web form or cells on a spreadsheet, or even reading text from a web page. This allows you to free up time and instead assign a user whose time may have been taken up by such a repetitive task a higher priority or more value-add task.
Let's consider an example. Say you're a car auction house, auctioning thousands of vehicles every week, part of this process would entail the validity checking of each MOT certificate on the government website. This laborious and repetitive process may take up a large percentage of employee time, but RPA could pull back information for the government website and build up a profile without the need for any human interaction, opening up time for employees to focus their energies on other important tasks.
Why Should I Care?
So, we've covered what RPA is and what it can achieve but there's still an important question to answer – why should you care? Starting with the obvious benefits, RPA saves you both time and money by automating repetitive tasks and opening up employee time to be used more efficiently and effectively. However, less acknowledged is the extended range of possibility provided by RPA, by bridging the gap between digital processes and human processes, RPA opens up a plethora of new tasks for automation, expanding the possibilities of what automation solutions can offer.
To find out more about RPA get in touch by calling 0191 4770365 or email enquiries@teamsynergi.co.uk.